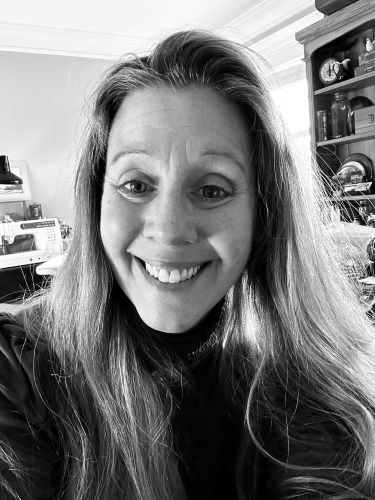 ---
I am Rebekah Smith, sole owner of Smokin' Tweed in Ephrata, Pennsylvania. 
I simply adore wool tweed, and you can read a little more about how I fell in love with the scratchy but irresistible fabric here .
All of my items are designed and handmade by me. You can see many of my past creations by visiting my Galleries. 
I am married to the dashing Englishman I blogged about and have a 17 year old son Teddy, who is a Gamer (much to my annoyance) and is slightly intrigued with my sewing skills but acts as if he isn't.
We have 2 dogs, 4 cats (including Clarence the kitten who has made his acting debut on my IG account here: http://instagram.com/smokintweed ) and two birds who are incredibly noisy and annoy my poor husband to death.
We are constantly having work done in our house and the dogs have grown used to the hustle and bustle but the cats tip toe around the contractors as if we've been invaded by aliens. 
My husband, son and I all work remotely. Say a prayer for our sanity! 
WHAT SOME OF MY CUSTOMERS HAVE SAID:
Lovely vest in perfect condition. Fun for the holidays and anytime the weather is cooler. Great vendor. -Diane
Beautiful work! Thank you! -Courtney
Absolutely beautiful! These stockings are high quality and made with great attention to detail. They are one of a kind heirloom quality pieces that I will cherish every year. I found this Etsy shop many MANY years ago and fell in love. When I saw the shop was closed I searched high and low, but couldn't find anything that compared to Becky's work. I decided to send her an email just in case, and to my surprise she replied! I feel so lucky to have these pieces in my home. The stockings are gorgeous and I cannot recommend this shop enough!!
This is one of my favorite shops. The craftsmanship on these stockings are immaculate. She communicates well and understands my vision. She made all of these to match the gray hues in my living room. Hoping she will start making ornaments some day. 😃 -alex
Well made and gorgeous like the other stockings I purchased. Thanks a bunch!
Love! The mixtures of houndstooth patterns makes this stocking stand out. Just perfect for my mantle!
The perfect addition to my holiday couch to tie in the stocking patterns on my mantle. Thank you!
Looks great on my stocking!
Beautiful! Well made and interesting to look at when hung from my mantle. I mis-matched this with two other stockings from the shop and had many compliments on my decor this holiday season. I'll be back!!
Unique stocking that is definitely my style. Thank you!
LOVE this stocking we purchased for our daughter. The quality of Becky's work is so precise. She's so easy to work with! Each piece is created with such care and is reflected in the quality of her work. We now have 4 unique and beautiful Christmas stockings for our family and couldn't be happier!! -Lisa
The quality of these stockings is amazing. I really have had the best experience with this shop. Becky is the best! -Justine
Smokin Tweed is awesome to work with. I bought this item as is (and it is gorgeous), but also placed some custom orders. There was a lot of back and forth involved with Becky to ensure my order was what I envisioned and she was beyond patient with me AND knocked it out of the park with my requests. The quality of her work is stunning and I couldn't be more pleased. -Justine
These are the only stockings you will ever want once you purchase your first one. I absolutely love how unique each stocking is and the detail is amazing! These are a keepsake and really make your home look wonderful at the holidays. Thank you Becky!
Becky was so easy to work with. She went out of her way to give us exactly what we wanted. The stockings were outstanding! I highly recommend Smokin Tweed. -David
I now have two pillow covers from Smokin' Tweed and I love them both! They are constructed very well, made of beautiful quality materials, and just plain look fantastic! Not to mention, they are very unique. I love adding them to my home. -Kimberley
I love these even more than I thought I would. Best most unique stocking ever. -Lauren
Beautifully made with some lovely details.
So cute and unique. I received my order very quickly.
Absolutely gorgeous! Thanks so much. Looks fantastic in our living room x
The stockings are perfect and arrived very quickly. Love them! -Megg
The set was perfect and so well made! Becky worked with me when I needed a 4th stocking to match, and she was very quick at responding to questions and quick to make the stocking so it could be shipped right away. I couldn't be happier with these, and they're so well made they'll definitely last a long time! I love them! -Steph
The set was perfect and so well made! Becky worked with me when I needed a 4th stocking to match, and she was very quick at responding to questions and quick to make the stocking so it could be shipped right away. I couldn't be happier with these, and they're so well made they'll definitely last a long time! I love them! -Steph
The set was perfect and so well made! Becky worked with me when I needed a 4th stocking to match, and she was very quick at responding to questions and quick to make the stocking so it could be shipped right away. I couldn't be happier with these, and they're so well made they'll definitely last a long time! I love them! -Steph
Awesome addition to the exceptional quality of the stockings. -Jennifer
Absolutely fantastic! My boyfriend loves it! -Jennifer
Love it!! These pillows are beautiful! Honestly, I have purchased rustic pillows from P-Barn & Pier 1 before and these deer pillows are better quality and just beautiful! -Michele
The quality of these stockings are amazing and I just love the unique touches on each one.
Amazing stocking! Couldn't have asked for a better item, thank you so much. Great product, fast delivery and a great service. Thank you for tailoring the item specifically for me. -Fiona
So happy with the beautiful Christmas stockings AND the superb customer service!
Love, love, love the Christmas stockings!
LOVELY quality item that was much more then I was expecting. Thank you! -Mandy
I absolutely loved my stocking! Of course, she did take the time to perfect the style to my liking before sewing it together. -Alex
This one for sure is my favorite. I love the cuff on the stocking and the button detail. :) ----
This is one of the nicest Christmas stockings I've seen. I love the fact it is made of recycled fabrics. Thank you! ----
This stocking for my greyhound turned out even better than I imagined!! It is truly a one of a kind piece! Thank you!! -Lauren
Becky was wonderful to work with! I saw the stocking pictured and she made me two more coordinating stockings to my specs and décor within a week. Very satisfied! -Dennis
PERFECTION! Everything you do is top quality! BEST CUSTOMER service around! Thank you Becky! -Dana
PERFECTION.. like everything U do Becky! Thank you! -Dana
LOVE, LOVE... love them! Fast shipping too! So appreciated @this time of year! Thanks! -Dana
It's soooooo hard to choose! These stockings are even more amazing in person! HAPPY HOLIDAYS BECKY! -Dana
Everything you do Becky is unbelievably beautiful! That's what keeps me coming back! Thanks for all your top notch customer service as well! -Dana
Working with Becky was an absolute dream. My 3 custom stockings turned out FABULOUS! I even have my eye on another... "just in case." These are truly a treasure and I already have them hanging on my mantle, despite it not even being Thanksgiving yet. I love them so much. Thank you, Becky! -Callan
These stockings are very cool and unique, even better than the pics. My spouse and I were looking for something special to replace our basic Target stockings in recognition of our 10th Christmas together. They appear to be really well made, are a perfect size, and we love that they're one of a kind and eclectic. Thank you for not disappointing, SmokinTweed. -Tom
I wish I could give this shop a higher rating than five stars. Stunning work, very high quality, looks professional. Becky was wonderful to work with, very willing to make each stocking exactly what you want down to the finest detail. I will and would most definitely purchase from this shop again. Love that the money goes to a hard working mom who gets to do what she loves. I can't wait to see what she makes next.
I love the stockings! They arrived on time. Beautifully made. Becky was so responsive and had great ideas for the custom stockings. -Cristina
Adorable! Plus it arrived quickly so I could give to my husband for Christmas...he loved it! Thanks!
My boyfriend loved this! I actually like it more than the one I bought myself. -Lizette
Terrific experience! So easy to work with on my custom request. Shipped so quickly. Outcome beyond expected -- oohs and ahhs from everyone who sees my lovely stockings hanging on the mantle!! Will definitely order/recommend again.
Great quality and my boyfriend loved it !
The two stockings we received were beautifully made of high quality materials. One of the stockings was custom made to compliment the other and I felt like Becky really went above and beyond to make sure it turned out the way I wanted. I am very happy with my purchase and my husband and I plan to use these stockings for many many Christmases to come! -Jessica
Wow! Workmanship is incredible. Far exceeded my expectations! Thank you. -Kim
Adorable pillow! The detailing and the material are high quality! Thank you !! -Megan
The stocking I purchased was perfect and everything I was looking for! Great quality. The seller was so kind and quick in her responses. I will definitely be purchasing more in the future!! -Cristina
We love the custom stocking we got!!! We had been looking for a stocking and this was the perfect one. We will probably be getting similar ones for the entire family now to match the new dog stocking!! -Bryan
So happy with this stocking, it's absolutely beautiful! Made very well too, you can tell it's all great quality materials and will last.
Order was shipped and delivered SUPER FAST! It came wrapped in the most perfect way, it's staying in the plastic and all until Christmas. My friend is going to Love it! 20/10, great seller :) -Ashley
I couldn't be more satisfied! These custom stockings are beautiful and she was so willing to design one to accompany another in the shop. Top quality, sure to stand up to family tradition. Thank you! -Molly
Bought 4 different stockings - love, love, love them! They are just perfect for guys and exceptional quality! -Pamela
This was a shower gift for my daughter and she is in love with it! Thanks for your wonderful customer service. -Sheila
This is one of the best things I have bought on Etsy. I love it! -M.
I ordered the English bulldog pillow from Smokin Tweed last month and was beyond satisfied with my purchase. Although there are many fabric options to choose from, I loved the color choices and fabric shown in the original picture and was able to get the exact match for purchase. Received the pillow in great time, the quality is outstanding and I think it's amazing that part of the proceeds go to an animal foundation! Perfect example of combining business with class! -shannon
It came quickly and it looks fantastic! -Rose
We couldn't be happier with our 4 stockings (Mom, Dad, Baby, Dog)! I've already recommended Becky's work to several friends. Her stockings are wonderful and so much more unique and chic than the mass-produced ones at PB, etc.. Thank you, Becky! -Amanda
This stocking was also great. Thanks! -EU
These stocking were so beautiful and made it in time for Christmas! Thanks so much for the quick assembly, adding the holy, and shipping them so fast. They were quite the hit on the mantle. -EU
I cannot say enough fabulous things about this shop and its owner!! She answered all my questions quickly and thoroughly to ensure that I got exactly the stocking I wanted (even sent late night phone camera snapshots)! She whipped up my stocking and got it in the mail much faster than I expected, so I was able to admire it all December long! The stocking itself is just PERFECT and I LOVE that it is made from repurposed fine materials from simpler times when things were made to last. I will be back for more!!! -Rebecca
These stockings are fantastic! I needed two, but there wasn't really a set that I liked available on the site, so I contact the seller. She got it touch with me promptly and came up with several great ideas for a corresponding stocking to one I really liked. They arrived on time, look GREAT (better than the pics) and I couldn't be more pleased. Thanks so much!
Fast shipping, great quality work! Thanks!!! -Rachel
Great quality workmanship! It looks great on the mantel. :) -Jennifer
So great! Got here quickly and the quality is amazing!!!! -Alicia
Just what I was looking for: unique & beautiful! Wonderful seller. She put together various combinations of her stockings & sent me photos. Then, when I asked to switch out a stocking from 1photo with a stocking with another photo, she sent me more pics! Huge effort on her part to get me EXACTLY what I wanted! THank You, Thank you, Thank you! -Margie
These stockings are so well made! Backed in amazing corduroy fabric and lined. Very professional! LOVE, LOVE LOVE! -Margie
Wonderful & creative product! I bought 4 & the look AMAZING with the name tags this seller offers! Can't say enough how much iI love this! -Margie
So cute - my fiance LOVES these! -Thea
Love, love, love it. Great seller-- fast shipping. Thank you! -Kathy
Becky spent so much time sending me pictures of fabrics and colors for my custom stocking. I was blown away by her customer service and her desire to make a product that was EXACTLY what I envisioned. The end result is a gorgeous wool and tweed stocking that goes beautifully with two I purchased years ago. Becky even sent me the history on the fabrics used to make it - what attention to detail! I will definitely use her again when our family grows. -Jordan
This is adorable and since I have 3 corgis, I had to have it. Thank you for great service and product. -Judy
TERRIFIC pillow cover. So well made and the graphics are just great. I love it, can you tell ?!?!?!?!?! Thanks so very much. Have a wonderful summer.